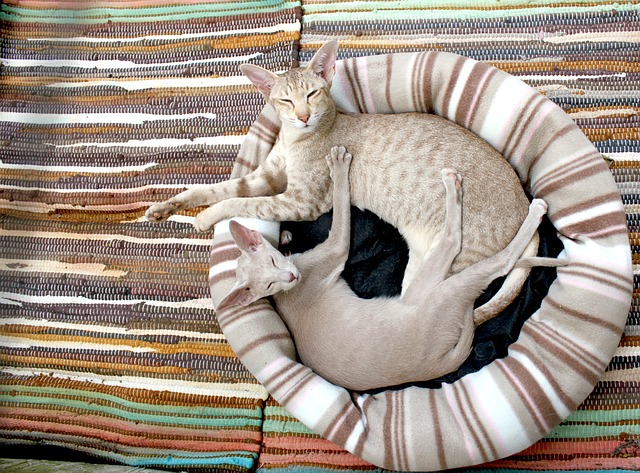 Albuquerque Cat Clinic offers a variety of other products and services to our customers. We offer Boarding, Grooming and Veterinarian preferred products in our retail store.
Nutrition
Cats have very specific nutritional requirements. They are the closest to being pure carnivores of any domestic animal. In general, any high quality commercial cat food will meet your cat's needs. We do not recommend feeding an all-meat diet, as this leads to calcium deficiency and brittle bones. Dog food is also inadequate, as cats require special amino acids as well as a much higher protein content. Obesity is a very prevalent problem in the pet cat population and can lead to serious health problems. If you notice your cat gaining weight, contact us for weight control options. If you have an obese cat that suddenly stops eating, contact us immediately, as this can be a sign of a serious medical problem. Other than obesity your cat may have special kidney, dental or urinary requirements. At times, we at Albuquerque Cat Clinic may recommend a prescription diet as an integral part of a comprehensive treatment plan. We carry Hill's and Royal Canin Prescription diets, and can provide trial bags with these options for a small fee to assist you in finding an appropriate diet that your cat enjoys eating..  It is very important that dietary recommendations be followed. If you have questions or would like options to your current food, please ask us.
Grooming
Grooming services are offered to Albuquerque Cat Clinic clients whose cats require sedation for clipping. Cats who will be sedated may require bloodwork depending on age. For more information regarding our sedation process please see our Anesthesia section. Sedation and anesthesia for grooming will be subject to the same requirements for bloodwork as surgical procedures. Due to the time requirements of these services, they are offered as a convenience only to clients who obtain their medical services from Albuquerque Cat Clinic. If you would like to transfer care of your cat to us, and no medical services are necessary at the time, we would be happy to groom your cat after performing a complete physical examination to ensure that no health problem is overlooked. Rabies and upper respiratory vaccinations must be up-to-date for your cat to obtain grooming services at Albuquerque Cat Clinic.
Boarding
Boarding services are available for Albuquerque Cat Clinic clients and space goes fast! If you are interested in boarding your cat with us, please call for available space. Our kitty condos offer spacious accommodations for the comfort of your pet. Two adjacent cages are connected, giving your pet a litter box area and a separate area to sleep and eat. We provide your cat with Hill's Science Diet food appropriate to his or her stage of life. If your cat requires a special diet, please bring adequate food for the duration of the stay. All cats boarded at Albuquerque Cat Clinic must be accompanied by proof of current vaccinations, including rabies, panleukopenia, calicivirus and feline viral rhinotracheitis. Feline leukemia vaccination is recommended depending on your cat's lifestyle. Parasite control will be instituted if necessary at the time of drop-off at the owner's expense. Owners will be asked to fill out paperwork at the time they drop off their cat or you can download the paperwork from the website and bring the paperwork in with you.
Microchipping
Microchipping your cat is the best way to ensure your cat gets home safely if they are ever lost. Let Albuquerque Cat Clinic take all the worry and work out of the process. We will microchip your cat and send the paperwork in for you! If you are unsure if your cat is microchipped, we can help you with that also. Schedule an exam and we will scan your cat and find out.
Pet Products
Albuquerque Cat Clinic has a wide variety of merchandise for sale. We do not sell anything at our clinic that our doctors do not personally recommend or use for their own cats! Some of the products we offer in our retail area are:
Never Miss litter box
Feliway Pheromone Difusers
Calming Collars
C.E.T. Toothpaste
Hill's t/d Dental Care
Flavored Pill Wrap
Cat toys
Stop in to see all the cat friendly products we have in stock.
Cat Food
Albuquerque Cat Clinic proudly stocks Hills and Royal Canin prescription diets. These foods are specific for your cat's health requirements, and may be recommended by the Veterinarian or Support Staff during your visit. Our Care Team can also discuss more general diet recommendations if your cat does not require a prescription food. .