Veterinarian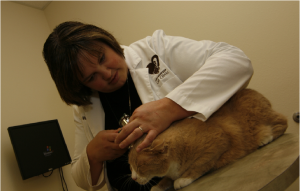 Dr. Walker was born in Liberal, Kansas. Her family relocated to Angel Fire, NM when she was seven years old. She attended Santa Fe High School prior to completing veterinary school at Oklahoma State University in 1999. She spent the next four years practicing in a small animal clinic in Yukon, OK before coming back to New Mexico to be near family.
Dr. Walker discovered her love of cats in the early years of veterinary school. She became the president of the student chapter of the American Association of Feline Practitioners and completed her preceptorship at a feline-exclusive practice. She is a current member of the American Association of Feline Practitioners and the American Veterinary Medical Association. For the next year, she is serving as President of the Albuquerque Veterinary Association. During her years in practice in Oklahoma she gained invaluable experience in the treatment of feline patients, and further cemented her desire to dedicate herself completely to the care of cats.
Dr. Walker has been married to Matt Walker, a graphic designer, for twelve years. She has a daughter, Josie. If a love of chasing the family cats is any indication, Josie just may follow in her mom's footsteps!
Dr. Walker has two cats of her own. Cheerio, a large brown classic tabby and white male, has been with her for eleven years and was a gift from a very dear client. Lucky, so named because you have to be darn lucky to have a vet in the car behind you when you get hit by a truck, is a black female kitty who joined the family shortly after Cheerio. Pictures of both can be seen in the Photo Gallery.
Dr. Walker is very excited to be starting this new phase of her life in a new clinic, which she hopes to develop into a haven for cat lovers and their feline companions. She looks forward to forming bonds with both clients and patients, for it is these relationships that make her profession so rewarding.