Owner/Veterinarian, DVM
Education: Graduate of Oklahoma State University, Class of 1999
Hometown: Angel Fire, NM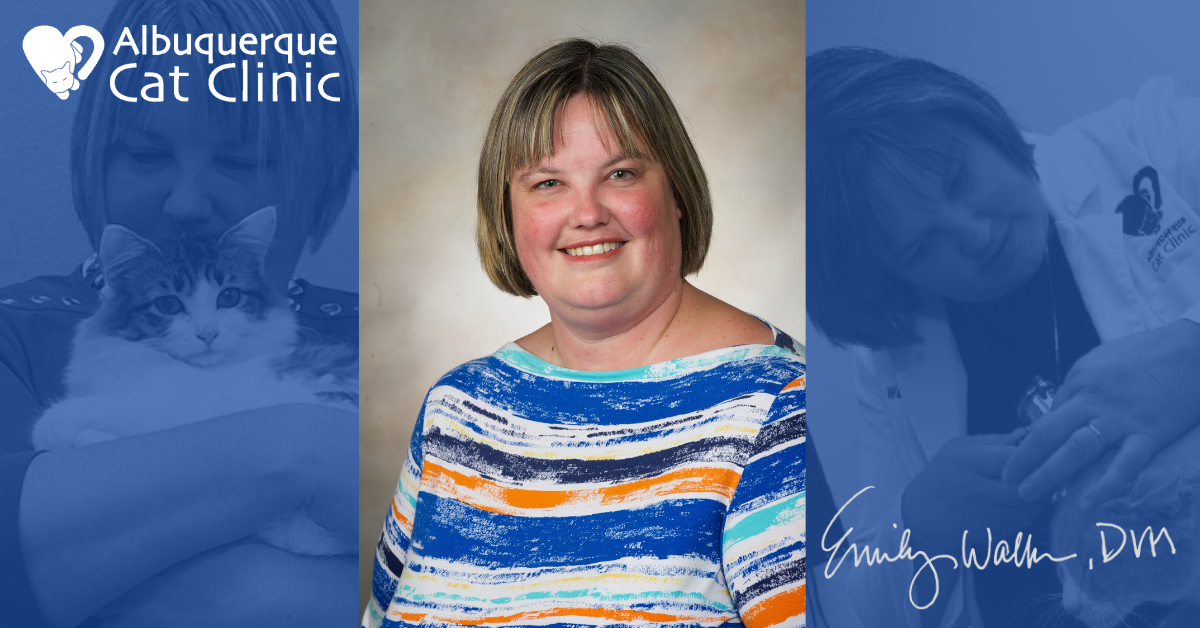 From Dr.Walker
"Immediately after veterinary school, I took a job working at a "mixed animal" (what I call dog and cat) practice in Yukon, OK. My husband had a job in Oklahoma City, and I needed to stay close. The practice was a busy one, and I was able to get a lot of experience very quickly, but it also just didn't feel to me like what I wanted out of my career. I had always preferred feline medicine in school, and life in practice just confirmed it – I was definitely a kitty person.
In 2002, after having a baby, I started feeling the pull to come back home to New Mexico. I looked for jobs in Albuquerque, but none felt like a good fit. I was complaining to my mother when she asked me, "If you could do anything with your degree that you wanted to, what would that be?" I didn't even have to hesitate – I said I would own a cat practice. She said, "Well, let's do that!"
I thought she was crazy. I couldn't let go of the idea, though, and in 2003 I started planning a move to Albuquerque to start a practice from scratch. My husband, 8-month-old, and I moved in with my brother, and I spent the next 8 months dealing with banks, ordering equipment, and overseeing construction, while trying to keep a very active toddler busy and entertained.
In March of 2004, I opened Albuquerque Cat Clinic. It was just me and one veterinary technician, Kathy Simpson. We both did everything – answered the phone, cleaned litter boxes and cages, checked people in and out. I was also working weekend shifts at the Emergency Clinic in Santa Fe to pay the bills. It was a lot of very long days, weeks and months, but I was happier than I ever had been. I was able to stop doing Emergency Clinic shifts in 2006 and start spending the weekends with my husband and kid.
I still love my job, and it has been so exciting, scary and rewarding to watch the practice grow from one employee to nine. When Dr. Olah joined us in 2012, I was finally able to take a vacation that lasted more than 2 days in a row, and he has been an invaluable addition to our team. I am so proud of the staff we have built, and feel so lucky to have so many wonderful clients and patients that have helped us weather the good and bad times.
I can never imagine going back to "mixed practice." Kitties are my life, and I love getting the purrs, rubs, and even occasional swats that come with working with them every day. Everyone should be so lucky! Thank you for taking the time to visit our site and learn about our clinic. We would love the opportunity to meet the special cats in your life."