We appreciate your loyalty and patience as we have done the best we could to take care of your beloved kitties under some very strange circumstances. The time has come to start welcoming you back into our clinic, and we are excited to see you in person again!
Please understand that we are going to take this slow, trying to strike a balance between getting back to "normal" and continuing to keep you and our staff as safe as possible.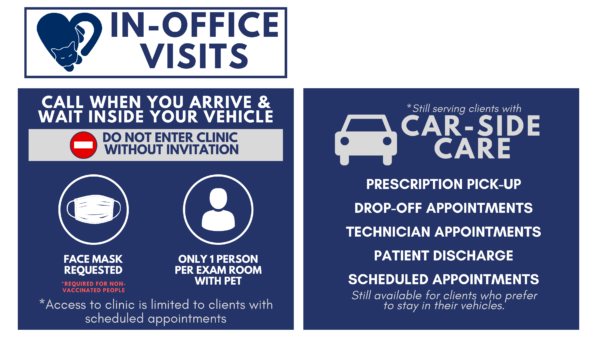 We cannot accept walk-in appointments at this time, but you can call to schedule for our next availability.

Clients are asked to call in advance for medication refills or prescription diets
We do not have a public restroom available at this time.
We understand that the wearing of masks has become a very hot-button topic, and the recent guidance from the CDC has complicated the situation further. Although everyone on our staff is vaccinated, they will continue to wear masks inside at all times for your protection. Although we will not require fully vaccinated individuals to wear masks in our office, this is on the honor system, and we are trusting you. We would prefer everyone to continue wearing masks if possible, as our spaces are small, and we have to have multiple people present to care for our patients.
Because of the small size of our exam rooms, we will be limiting in-person visits to one family member only.
We will still be providing car-side care upon request, and will also continue operating car-side for drop-off appointments, surgeries, and anyone picking up food or prescription refills.
Our lobby will remain closed, so we will ask that when you arrive for an in-person appointment, you call the front desk. One of our technicians will gather information about your visit, and then come out to escort you straight into an exam room.
If you have any other questions about your visit with us, the staff is happy to help. As when all of this started, we anticipate there will be unforeseen situations that arise, and we appreciate your forbearance as we try to accommodate your requests and needs while also working to keep everyone safe and healthy. My staff have been heroic in their efforts to care for an increasing volume of patients and clients during this difficult time. I ask and expect that you treat them all with kindness and respect as we work through yet another new way of doing things.
We are so grateful for your support, and can't wait to see you!
Sincerely,
Emily Walker, DVM
Owner, Albuquerque Cat Clinic